I first heard about Montserrat in 2013 during my search for a PhD dissertation topic related to the connections between African and Irish cultures in the US and Caribbean. Montserrat was a mere footnote in many of the articles I was reading, and I decided I needed to check it out for myself. That first weeklong visit to the St. Patrick's Festival that March opened my eyes to the warm, rich culture of Montserrat.
St. Patrick's Day on Montserrat is like none other in the world. As an Irish step dancer, I have participated since childhood in countless St. Patrick's Day parades, performances, and parties in my hometown of Washington, DC, throughout Virginia and California, and even in Dublin during the year I lived in Ireland.
In the US and Ireland, St. Patrick's Day is celebrated for just one day and centers around drinking pint after pint of Guinness. But on Montserrat—while sure, there is plenty of beer and rum to go around—St. Patrick's festivities last for 10 days and the holiday is a celebration of the island's unique mix of Irish and African heritage. Most locals wear Montserrat's national dress, a green/orange/white madras pattern that is reminiscent of the Irish flag (although I have heard alternative explanations for the meanings behind these national colors). Others don green leprechaun hats and shamrock t-shirts – typical Irish "paddywhackery" – just like in the US and Ireland, but St. Patrick's Day on Montserrat is about more than just "Irishness." Activities such as the Slave Feast and Freedom Run remind festivalgoers that on Montserrat, the story of St. Patrick's Day diverges from the Irish American version to address the serious history of slavery and indentured servitude on the island, highlighting the parallels between African and Irish histories of oppression.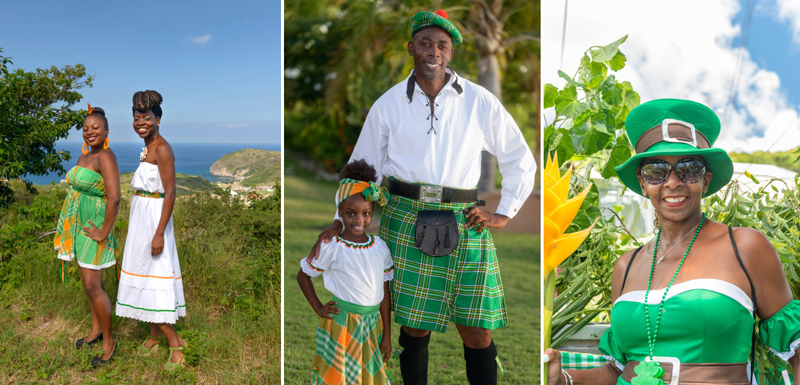 Local historian Sir Howard Fergus explains that the first large-scale rebellion on Montserrat was planned in 1768 for March 17th, the day that slaves knew their Irish masters would be celebrating St. Patrick's Day and otherwise distracted with drink and dance (History of Alliouagana: A Short History of Montserrat, 1975). As the story goes, the rebellion failed when someone revealed the plan, but Montserratians have commemorated St. Patrick's Day since 1984 as the first attempted slave insurrection on the island. The event was a major step in the movement towards emancipation, which was finally achieved in 1834, and it is a holiday during which Irish national symbols such as the shamrock and St. Patrick have come to represent freedom in general rather than to display specifically Irish pride.
At the festival, local artists such as the Rude Boyz String Band and Volpanics Steel Pan Orchestra share the stage with performers visiting from Ireland and Africa.
My favorite event was Rhythm Night, when African rhythms combined with European melodies in a surprisingly harmonious way. As a dancer, I was most intrigued by how Montserrat's "triangular" culture is performed through the national masquerade dance, which combines West African dance postures and rhythms with Irish polka footwork.
I returned to Montserrat in December 2013 to spend 6 months doing ethnographic fieldwork for my dissertation on the island's rich music and dance culture, which is at its peak during their celebrations at Christmas, St. Patrick's Day in March, and Calabash Festival in July. I learned some masquerade dance steps and even taught some Irish dancing, which my students performed beautifully during last year's St. Patrick's Festival. I've been off-island since July but will return to Montserrat for my third St. Patrick's Week in a few days, and I plan to trade some more dance steps while I'm there. I'm looking forward to another year of sun and shamrocks on the Rock!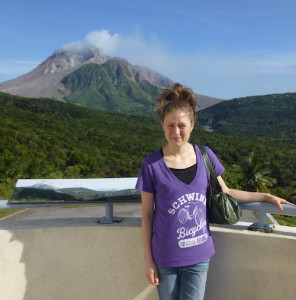 Kate Spanos is a PhD candidate in the School of Theatre, Dance, and Performance Studies at the University of Maryland, College Park.
For more information about her work on Montserrat, see her blog: http://montserratrhythms.thekatespanos.com