The island of Montserrat is on the rebound.
A dynamic tourism marketing thrust driven by a new website, which has just gone live, is seeing the island creatively and meaningfully brought to life. The former capital Plymouth, now literally suspended in time, is a central feature of Montserrat's new lease of life in its tourism brand strategy.
At the forefront of this new drive is Montserrat's Director of Tourism, Anita Nightingale.
Ms Nightingale, in the job for a little over eight months, has been consulting with stakeholders on- and off-island, including tour operators in key target countries, as she leads the drive to craft Montserrat's post-volcano tourism industry.
The Soufrière Hills volcano, along with the walk-through museum of island's former capital, are central features of that strategy.
"The volcano," enthuses the new tourism director, "forms our gritty side and it has positively influenced this new strategy. But it is always in partnership with our lush green side."
"We want people who are fascinated by our geography of contrasts," she adds, pointing out that in terms of the volcano, "We are at our lowest hazard level ever. Now is the time for people to come."
A first step on that journey to discover Montserrat – and to rediscover for others – begins with the rebranded, cutting-edge yet user-friendly website www.visitmontserrat.com, which was designed by Katalyst Creative Partners.
"The goal of the site," tourism director Nightingale explains, "is to make it intuitive and accessible via any medium, from desktops to laptops, from tablets to smartphones. We are emphasising bold imagery and less text. The pictures tell the story."
Go Off the Grid; Explore the Green and the Gritty is the greeting awaiting visitors to the image-laden site, giving a first hint of the adventure that beckons.
"Another word for gritty is our tough side," says Ms Nightingale referring in part to the oft-quoted resilience of Montserratians and the charm of the island.
"So we have our soft side and our tough side. Very much like our own people."
"Montserrat," the tourism director explains, "is a destination of adventure and seclusion and so what we are offering is a double-edged experience."
"Our main traveller, the Adventurer, is one who will stay here ideally for seven to nine days. Another key target is the day and weekend excursionist, like those coming by ferry and yacht."
And after all that exploring of the only buried capital in the Americas, all that hiking, diving, touring and relaxing, turn it up for some serious partying Montserrat style.
So exactly how do you party in Montserrat?
Ms Nightingale knows.
"The beauty about Montserrat is that you can bring your own party here—preferably on a moonlit black-sand beach.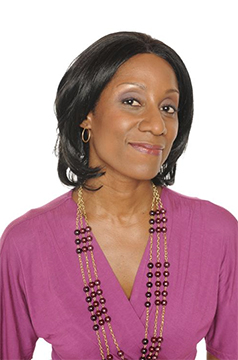 Anita Nightingale,
Montseratt Director of Tourism